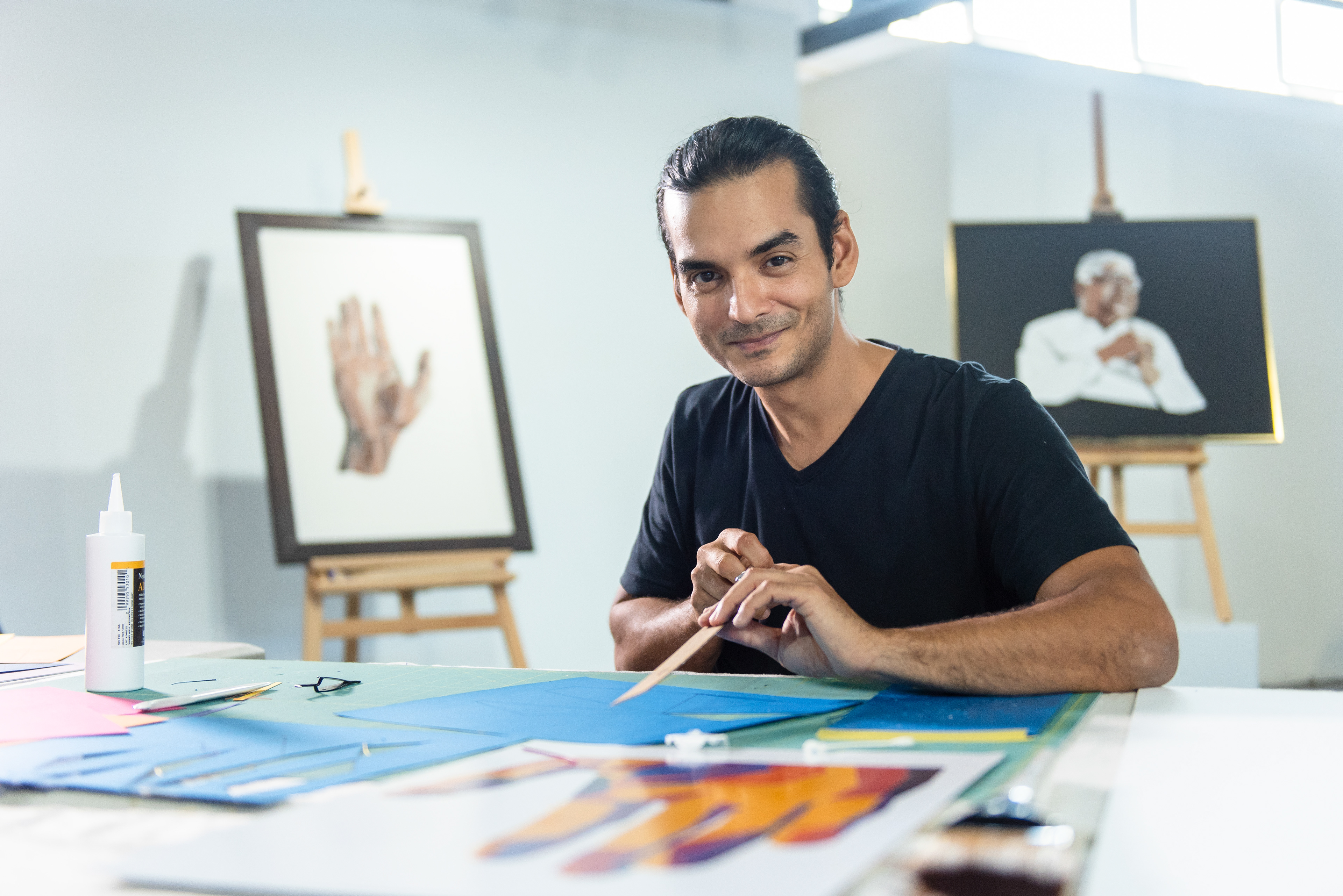 Jhonattan Arango was born in Cuba to a life suffused with music, literature, visual and performing arts. A few years after arriving to the U.S. he joined the Navy as a medical professional and, through caring for others, awakened a keen appreciation for community and a strong desire to be of service. After the military Jhonattan pursued a BFA in Graphic Design to supplement his artistic toolbox, but his voice would really take form after a silent 10 day meditation course —an experience that would kindle a need to explore and expound the fact of interdependence through the arts.
Telling stories is a main component to his work. For each narrative, he regularly uses thousands of triangles with the single purpose of opening up the dialogue of interconnection: how everyone and everything are intrinsically connected, and each part is as vital as the whole. The idea of non-separation is communicated through the simplicity of the triangle, as with this shape all shapes are achievable —all forms can bring forth their life. By utilizing triangles to create three-dimensional shapes, the viewer is invited inwards to question and interpret their own makeup. For this reason, the name
anón
is foremost a representation of interdependence, of the collective effort that it takes for anything to take place.
Inspired by things old and new, he uses triangles in two mediums: paper, and a signature mural style, including a community format in which people work together to create large scale murals. He sees community murals as an innovative way to connect and be playful together. When working with paper,
anón
painstakingly cuts out textured card stock triangles by hand to create compositions. 
Strongly anchored in the belief that public art is a public service, Anón works with the subject of universal beauty —that which anyone, of any gender, race or affiliation can feel as beautiful and free from our problems, real or perceived.
Anón lives in West Palm Beach, Florida, pursuing a life of art-making with his wife and partner Samantha and their son Sagan.
In murals and in life, I like to empower others to pick up a paintbrush and work together. Through the experiential act of co-creation, it becomes easy to appreciate the diversity in each triangle's shape, color and size, to ultimately grasp how each one, regardless of appearance, is imperative to the integrity of the whole composition. My objective is to remind others, if only for a few minutes at a time, of our interconnection to all living things.
•    2020 Honda Classic Solo Show at EmKo Palm Beach (West Palm Beach, FL)
•    2019 Conception Art Fair (Wynwood, Miami, FL)
•    2018 Aqua Art Miami — Art Basel Miami '18 (Miami Beach, FL)
•    2018/19 EmKo Palm Beach resident shows (WPB, FL)
•    2016 Conception Art Fair — Art Basel Miami '16 (Wynwood, Miami, FL)
•    2016 Nicole Henry Fine Art Gallery (WPB, FL)
•    2016 CANVAS Outdoor Museum Show '16 gala (WPB, FL)
•    2015 Studio/429 show (WPB, FL)
•    2014/15 Art House 429 (WPB, FL)
•    2020 "The Macaw and the Toucan", Primestones, WPB, FL (21'x9')
(community mural)
•    2019 "Love, Montclair", Montclair, NJ (95'x26')
•    2019 "Iris", Montclair, NJ (21'x9') 
(community)
•    2019 "One Giant Leap", Cape Canaveral, FL (80'x23') 
•    2018 Bee Access Products, WPB, FL (27'x8.5') 
(community)
•    2018 Rosemary Ave. "world's longest road mural", WPB, FL (1.2 miles) — crew
•    2017 Hilton West Palm Beach, WPB, FL (13'x4.5')
•    2017 Transitions Float Studio, Juno Beach, FL (10'x8') 
(community)
•    2017 Crafthaus, Palm Beach Gardens, FL (10'x6')
•    2017 Harold's Coffee, WPB, FL (5'x3') 
(community)
•    2016 VeggieFruit, Palm Beach Gardens, FL (13'x10') 
(community)
•    2016 CANVAS Outdoor Museum Show, WPB, FL (40'x10') 
(community)
•    2016 Aura Music Festival, Live Oak, FL (8'x4') 
(community)
•    2015 EmKo Palm Beach, WPB, FL (10'x10') — installation
•    2015 Garage VV, Northwood, WPB, FL (41'x17')
•    2015 Celis Produce, WPB, FL (12'x8') 
(community)
•    2014 Cirque Nightclub, Clematis, WPB, FL (10'x8')
•    2014 Lost Weekend, Clematis, WPB, FL (8'x8')
•    2014 Pawnshop Nightclub, Clem

atis, WPB, FL (16'x16')
paper media, murals, digital arts, architectural drawing, 
mapping and drafting, hand-lettering, graphic design